March 2014
Weekend Activities
Now that summer has wound down and the days are getting shorter, our anticipation of the weekend becomes a little more urgent with each passing week. On that basis we polled our panellists to get an insight into their planned weekend activities. Below is a little of what we found...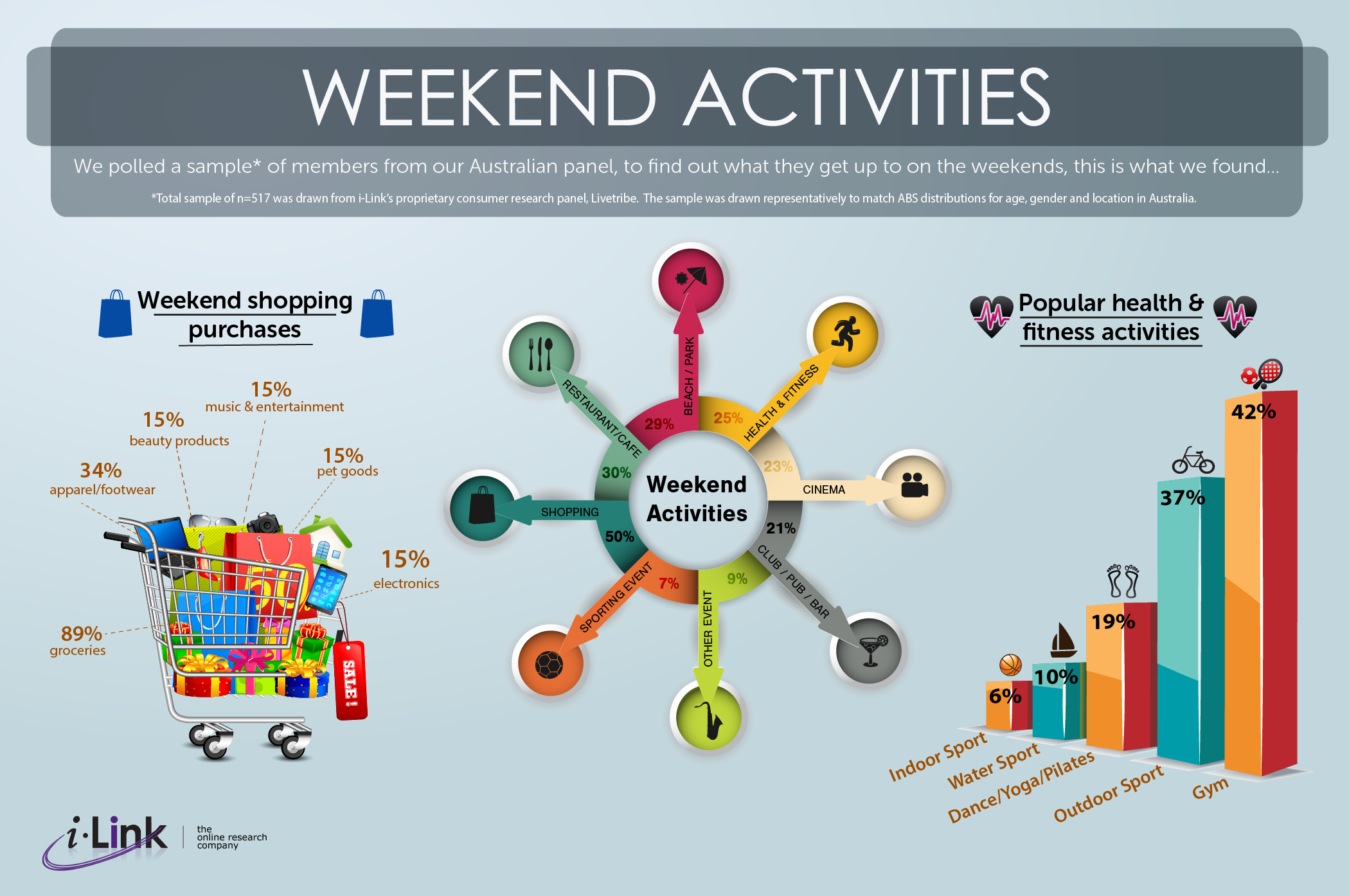 Shopping
The most popular weekend activity was shopping, which accounted for half of the responses we collected. Stocking up on groceries was the most common reason for a weekend shopping trip at 89%, followed next by shopping for clothing and footwear (34%).
The great outdoors
We're fortunate to enjoy great weather in Australia and it appears our panellists don't take it for granted. Heading to the beach or a local park was also a popular weekend pastime (29%), with activities such as swimming (21%), relaxation (34%) and catching up with friends and family (17%) being the most popular pursuits once there.
Keeping active is another common weekend pastime, with a quarter of respondents indicating that various health and fitness activities form part of their weekend schedule, of these, going to the gym (42%), general outdoor sports (37%) and yoga, dance or pilates (19%) were most popular.
Wining and dining
At the other end of the spectrum, but just as popular, were the more passive activities of going to a restaurant or cafe (30%), and going to a club, pub or bar [21%], indicating that Australia's known appreciation of socialising is showing no signs of abating.
###
---
i-Link is an industry leading provider of online research technology and data collection services. For more information about this article, or to see how we can assist you with your online research objectives, contact our Client Services Team:
Total sample of n=517 was drawn from i-Link's proprietary consumer research panel, LiveTribe. The sample was drawn representatively to match ABS distributions for age, gender and location in Australia.
---