Best Features
Demonstrations.
Demonstrations
Click one of the options below to view a demonstration of some of the question styles we provide.
i-Question
Online Surveys
i-Discuss
Overtime Forums
i-Focus
Realtime Focus groups
i-Question
i-Links premier survey system, i-Question has been designed to maximise respondent concentration and considered responses whilst utilising point, click and touch technology.
Deployed on servers maintained and accredited to ISO27001 standards (information security management system), our technology enables surveys to be deployed timely and cost effectively.
Our dynamic survey system provides the ability to conduct research in a rich multimedia and graphical environment, making it easy and intuitive for the participant.
From brand tracking to concept testing, predictive modeling to segmentation. No survey is too complex!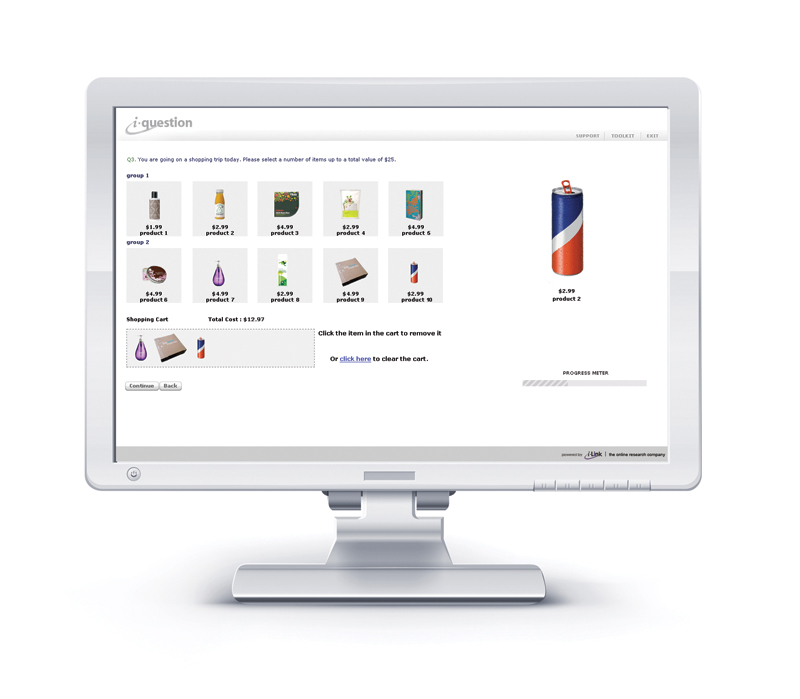 Vast range of question types
Point, Click & touch
Drag & Drop
Slider ratings
Word association
Premier Survey System
Customised to suit your needs , brand, logo and corporate image
Data is collected live to highly secure cloud based databases
Data is encrypted and all files backed up
Security options can be employed to restrict project entry
Integrate images, audio and video streaming
Deploy sophisticated piping, skipping, quota, rotations
Data output is available in all formats
Available in multiple languages
A vast range of question types
Error controls
Login and tracking
Sampling and Quota
Progress Meter
Viewing data in real time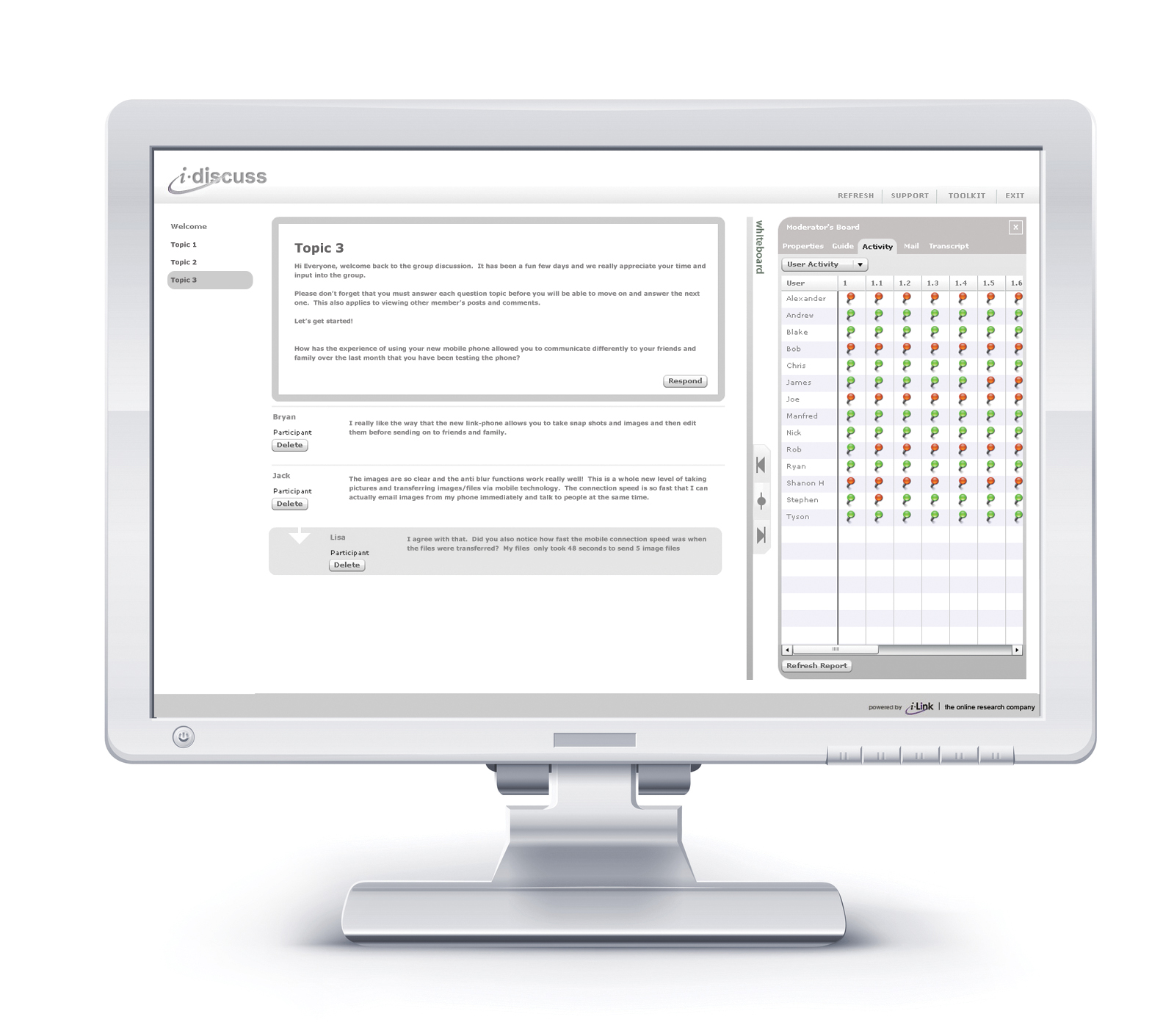 From short projects to communities, i-Discuss has modes to suit all research needs, these include; simple traditional rambling style, sequential topic release and finally interview mode. As with all our i-Link systems, no downloads are required, just a standard web-browser will suffice. i-Discuss groups can also effortlessly incorporate image, video streaming, PDF and audio presentations. With an intuitive high-quality display and interaction, they promote low effort high yield contribution with reduced fatigue allowing your participants to concentrate for longer.
Our discussion boards have a range of flexible set-up options to satisfy your specific research needs. For example board 'styles' can be chosen from a simple 'ramble style' boards which have little control over a respondent's activity, through to 'sequential message display' boards where respondents are asked to respond to some messages before they are shown others and can only move on in the discussion once a response has been received.
Utilising advanced stable technology, i-Link has developed world class research applications. Our facilities have been designed for research specific use and are able to handle the most complex of projects.
Facilities are easily customised to suit your needs including brand, logo and corporate image.
Data is collected live to highly secure databases within our system.
Sensitive data can be encrypted and all files continuously backed up.
Scheduled topic releases
Security options can be employed to restrict project entry only to invited respondents.
All facilities have the ability to integrate images, audio and video streaming and PDF's.
Available in multiple languages.
Designed for research
i-Discuss has been developed specifically for research purposes. Neutral colours and easy-to read message postings focus respondents on the discussion. Moderator messages are clearly identified and lead the discussion by organising threads.
Automatic organisation of discussion threads
Each time the moderator posts a new message, a new discussion thread is automatically begun. This enables the discussion to flow and for respondents to be able to easily and quickly view the latest messages posted by the Moderator and other respondents.
Floating message box
i-Discuss is extremely easy to use for both respondent and moderator. While reading the messages displayed, a floating pop-up window is activated for posting new messages. This pop-up message box can be size-adjusted and moved from point to point so threads can be read at the same time.
Thread and comments
Unlike other discussion boards available, the i-Discuss board maintain only a single thread under each new Moderator message. Respondents are able to make comments on each other's messages, but these are displayed sequentially in a single thread in order to keep the discussion focused and under moderator control
i-Discuss keeps track
The number of times a person visits an i-Discuss board is tracked. The number of messages posted since last visiting are displayed and includes a quick link to view the latest
Moderator Posts
In order to maintain interest in the discussion, project managers can arrange to have Moderator posts sent to all theactive participants in the discussion every time a new post is made. This is done to provide a recap or people who have not visited the board for some days and to motivate participants to continue with the discussion. This also allows participants time to consider their response, as with all i-Link facility functions, this is optional.
Transcriptions collected live
All conversations are text-based and recorded live as a discussion occurs. Moderators and Project Managers can download transcripts of the discussion at any time during the field period.
Multiple Languages
i-Discuss can be setup and administered in other languages. Standard languages currently available include German, Spanish, Italian, Japanese, Chinese, Taiwanese and others. Any language set not currently established can be introduced upon request within 7 working days.
Integrated whiteboard
Discussions can also refer to images or audio and video streaming. Links can be impeded following a moderator message to refer respondents to other web-based material.
Online help and immediate support
As with all of i-Link's facilities, help documentation can be obtained from online within the discussion board. In addition, all i-Link facilities have 24 hours days a week support. An immediate support request can be sent by e-mail within the discussion.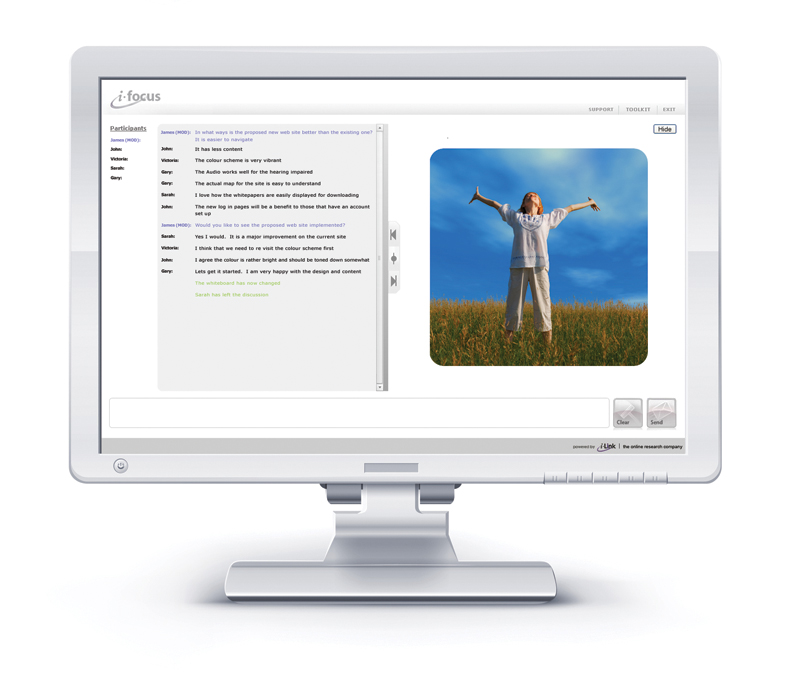 Images, webpages, video and audio streaming can be instantly sent to participants via an inbuilt whiteboard. In addition, groups can be silently observed by non-participants with the option for those observers to issue notes to a moderator's mailbox for reading when time is available.
Simple Moderation
Similar to text-based chat programs, i-Focus allows you to run groups with small groups. Respondents type live textual responses to Moderator messages. Group interaction is all live. Moderators have complete control within the group and can privately chat to any participant or even remove a participant from the group if need be.
---
In essence, our interactive group facility is designed specifically for research purposes. • Facilities are easily customised to suit your needs including brand, logo and corporate image. • Data is collected live to highly secure databases within our system. • Sensitive data can be encrypted and all files routinely backed up on an hourly basis. • All facilities have the ability to integrate images, audio and video streaming.
Audience viewing
Pre-loaded Moderator's guide
Quick select probes and controls
Easy to identify message groups
RSVP group participation
Transcriptions collected live
Image and Video presentations
Security Access